Editing by Kate Yuan/WM Zhang

Chen Nanxiang(陈南翔), an 18-year veteran of IDM and foundry management, has been appointed as Executive Chairman of the Board of Yangtze Memory (长江存储)in Wuhan under the Tsinghua Uni Group.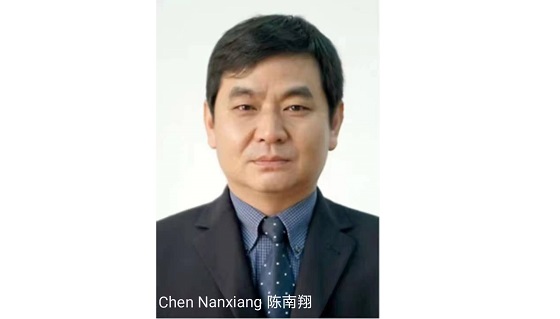 Chen served in various roles under China Resources Group (CRG) before joining Tsinghua Unigroup last summer. He was Deputy Chairman of the Board of CRG Electronics and its Investment Funds. During his 18 year career with CRG, he was in the general manager role of both IDM, foundry and design companies in CRG Electronics in Wuxi City, Jiangsu Province.
Yangtze Memory is a leading memory manufacturer in China, established in Wuhan in 2016.

The mid-March announcement of the appointment of Sandy Hu (胡煜华) as the President of Goodix Technology (汇顶科技) remains a topic of conversation in China's semiconductor communities. Sandy Hu was one of the few Chinese ladies to have made the country president position of a company in the size of Texas Instruments. Goodix Technology is one of the most successfully listed Chinese private semiconductor companies founded by David Zhang (张帆), Chairman & CEO of the company. This appointment is an excellent example of the needs in China's semiconductor industry for executives with international backgrounds. According to the appointment announcement, Sandy Hu will be fully responsible for the company's overall operation and management and report directly to David Zhang. Goodix Technology is a sensor IC provider best known for its optical in-display fingerprint sensor, which has appeared in top-tier smartphone brands including Huawei, Xiaomi, Lenovo, ZTE, Oppo, and Vivo.
Sandy Hu served as former Vice President of Texas Instruments and President of TI China for seven years and overall has more than 20 years of experience in the IC industry, mainly in sales positions. She holds a Master of Business Administration (MBA) degree from Hong Kong University of Science and Technology and a Bachelor's Degree in Computer Science from the University of South China.
David Zhang founded Goodix Technology in 2002, and the company went public in 2006. He used to work at the No.10 Research Institute of China Electronics Technology Group Corporation, Shenzhen office of Hokuriku Electric Industry Co., Ltd. and Shenzhen Chengdian New Electronic Technology Co., Ltd.
Zhang said,"Sandy is an outstanding leader. With her superior insight and good relationships with customers, she will drive our company's continued expansion and penetration into new markets," said Zhang. "On top of that, she has extensive management experience in building a customer-oriented team, managing a global team, and cultivating talents."
Following Sandy Hu's departure, TI appointed Jiang Han (姜寒) as the company's Vice President and President of China. Graduated from the Electronic Engineering College of Heilongjiang University, Jiang has worked in TI for14 years as a senior manager and has held various leading positions.