Editing by Kate Yuan
Luxshare Precision (立讯精密), a leading Chinese electronics manufacturer, has been selected by Apple to join the assembling of the upcoming iPhone this year. It is the first time the company shares the iPhone orders with Hon Hai (鸿海), also known as Foxconn, the biggest assembler of iPhones.
According to Chinese language reports, Luxshare will assemble 40% of the 6.1-inch iPhone 13 Pro. Hon Hai will remain the major assembler of the new iPhone lineup, handling all 6.7-inch iPhone 13 Pro Max, 60% of the 6.1-inch iPhone 13 Pro, and 68% of the 6.1-inches iPhone 13. Pegatron (和硕) has won the orders for the 5.4-inch iPhone 13 and 32% of the 6.1-inches iPhone 13.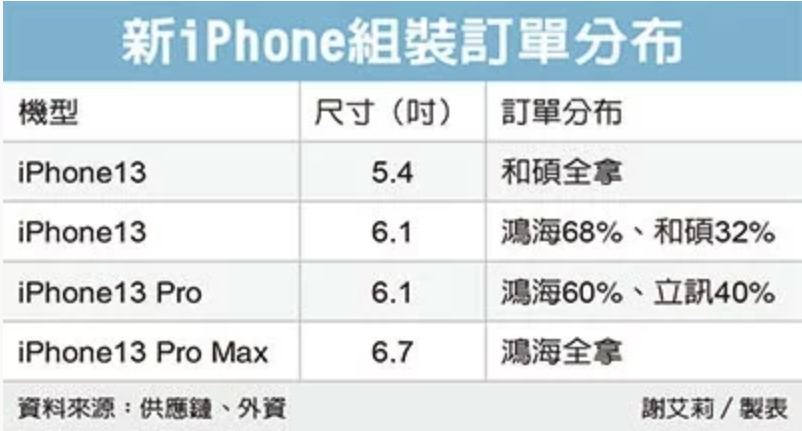 Luxshare was established in Shenzhen in 2004, and it became listed on the Shenzhen Stock Exchange in 2010. It is one of the top listed companies in China, and its CEO Wang Chunlai is the 11th on the 2021 Best CEO List by Forbes China magazine. Luxshare started and excelled in designing and manufacturing connectors for computers and mobile phones and expanded to other OEM businesses, including those in Tawain region through mergers and acquisitions and have established manufacturing facilities throughout China and Germany.
It is reported that the new iPhone release is scheduled for September this year. The product shipping will start in the 3rd quarter, and peak in the 4th quarter. Apple will launch four models, the 6.7-inch iPhone 13 Pro Max, the 6.1-inch iPhone 13 Pro, and the 5.4-inch and 6.1-inch iPhone 13.
The market is generally optimistic about the shipments of the new iPhone this year. Japanese investors have raised their estimates for new iPhone shipments in the second half of this year from 82 million to 85 million. The iPhone shipments in 2021 are believed to reach up to 228 million units from the originally estimated 225 million units.
The market is paying close attention to the debut of Luxshare on iPhone assembly, including its production yield and delivery time. If iPhone sales in the second half of the year are better than expected, Hon Hai, Pegatron, and Luxshare will benefit from this.