Editing by David Du
Chinese display makers could face increasing litigation risks as major Japanese and Korean players withdraw from the market, selling off their business—and patents—to potential buyers, including patent assertion companies (or NPEs). It is problematic for the remaining suppliers and makes the cost higher for them to utilize the opportunity created by the sweeping change in the global display industry.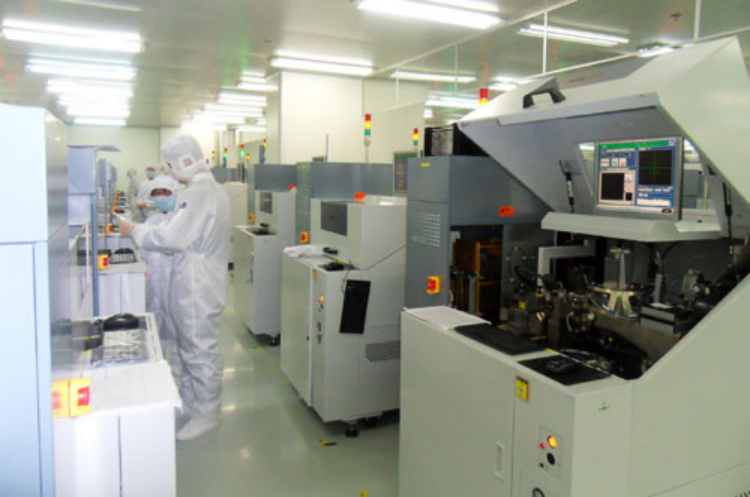 Last year many Japanese and South Korean display companies reportedly converted their factories to organic light-emitting diode (OLED) production or left the industry. As a result, more Chinese companies have emerged as key players in the global display supply chain, meeting the demand for TV and mobile phone display panels.
"The Chinese display industry yielded $64.8 billion in 2020, up 29.6% year-on-year. It becomes the most important 'growth pole' for the global display community," said Chen Yanshun, chairman of top Chinese display maker BOE.
As homegrown Chinese companies rush to fill the vacuum left by the current industry dynamics, it could increase their risk of infringing on the existing patented technologies well deployed by former industrial giants, patent operating companies, or NPEs.
"China accounts for more than 50% of global display production capacity," said Yang Jin, vice president of TCL Technology Group and CEO of Purplevine IP Group. "Everyone wants a slice of the cake. NPEs are no exceptions. There will be more patent lawsuits targeting Chinese companies," he added.
Data from IP case researcher Darts-IP shows for liquid crystal display (LCD) patents, roughly 28 lawsuits involving Chinese companies, such as BOE, TCL CSOT, HKC, Tianma, and Panda Electronics, have been filed from 2000 to 2021. Compared to the overall 1,670 LCD cases worldwide, the number of cases involving Chinese companies seems neglectable. But the worst part has yet to come. Given the current volatile situation in the display industry, anything could happen. "The storm is brewing," Yang said.
Last month, Suzhou-based Chinese company Lekin Semiconductor signed a deal with LG Innotek to buy some 10,000 light-emitting diode (LED)-related patents from the South Korean company. Some observers said the four-month-old Chinese company could be a shell company established specifically for this transaction. It could resell these patents to others, which may be patent operating companies, or assert patent rights for damages and royalty payments as other NPEs do. Either way, it will increase the odds of patent litigation for Chinese LED markers.
Chinese display materials and manufacturing equipment suppliers are also facing the threat of patent assertions. More and more Chinese domestic material suppliers and "made in China" products have surfaced on the market in recent years, becoming the new targets of foreign NPEs. Among the defendants of their litigation campaigns are, for example, Sichuan-based cover glass supplier Xuhong Optoelectronic and Ningbo-based optical film manufacturer Solartron.
Although the country's display industry is rapidly increasing its patent portfolio size, it is premature to think the risk of patent lawsuits for Chinese display makers becomes lower, Yang added.
The Korean Intellectual Property Office (KIPO) data shows that from 2011 to 2020, South Korea posted 5,384 OLED-related patents, followed by China with 3,273. Although Chinese company BOE recorded 1,676 OLED patents, compared to Samsung's 2,786 and LG's 2,412, the gap is still huge.
Conversely, Japanese LED companies, although no longer leading the industry, still have strong LED patent portfolios. Data from patent research firm incoPat shows Japanese companies make up the majority of the world's top 20 LED patent applicants and top 20 LED patent holders. Each ranking has 12 Japanese companies.
On the other hand, South Korean companies Samsung and LG lead the top 20 companies in LED patents and LED patent applications. The number of patents they hold is more than half of the cumulative total of the other 18 companies.
Companies like Philips have more patent applications than their existing patents, the incoPat data shows. It may result from divesting their relevant LED business and trading the involved patents. It is also likely that they have been operating their patent assets, like NPEs, by licensing or transferring these patents. Patterns from the data also show that the more a patent is transferred, the more likely it will be asserted.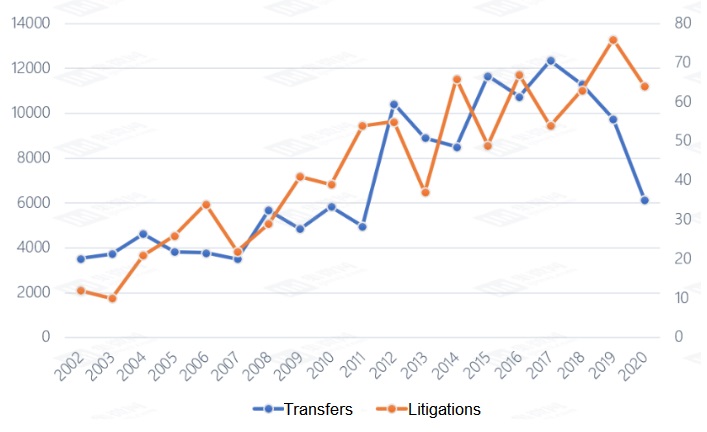 LED patent transfer and litigation trends over the past 18 years (Data from incoPat)
China is poised to become the world's biggest display manufacturing hub. It amounted to 51% of the global LCD production capacity last year, according to market research firm Magirror Research. It is expected to increase its LCD production capacity to 60% at the end of this year and 70% by 2024. The country has 22 of the 27 operating 8th generation or above panel production lines in the world. It also plans to set up 18 new production lines for small-size active-matrix OLED (AMOLED) panels, further narrowing the gap with South Korea in more advanced areas.
Leveraging the patents they obtained from former industry giants amid the evolving landscape, NPEs are likely to launch more litigation campaigns aiming at the burgeoning Chinese display industry. It could make patent litigation a new normal for Chinese players.