Editing by Greg Gao
To check on the latest in China's IC design progress, Alibaba IC division T-Head's Yitian 710 server processor and open-sourced RISC-V-based Xuantie processors are a case in point.
Internet giant Alibaba announced T-Head's proprietary ARM-based Yitian 710 server processors at its annual Apsara Conference on October 19. It is used to power its servers in its cloud infrastructure.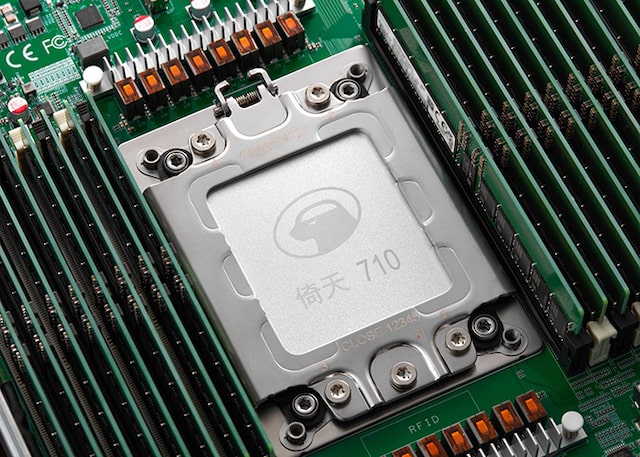 Alibaba created its T-Head(平头哥)subsidiary in 2018 and has come up with a couple of processor products. The latest Yitian 710(倚天710) is built on an advanced 5nm process and boasts 128 Armv9-compatible CPU cores with a clock speed of 3.2GHz. It has eight DDR5 channels and 96 PCIe 5.0 lanes, accounting for 60 billion transistors on the die, effectively improving the chip's transmission rate and adapting to different application scenarios in cloud computing.
Industry observers in China have hailed Yitian 710 as T-Head's jump in its ability to design advanced large and complex chips, joining the ranks of the world's leading chip design companies - a new milestone in Alibaba's chip design drive.
Zhang Jianfeng, President of Alibaba Cloud & Intelligent Business Group, said, "Yitian 710 was released to meet our customers' diverse computing needs." Zhang is also Dean of DAMO Academy with seven tech labs across the globe. It is Alibaba's initiative for a Cloud's business strategy with "One cloud, multiple cores."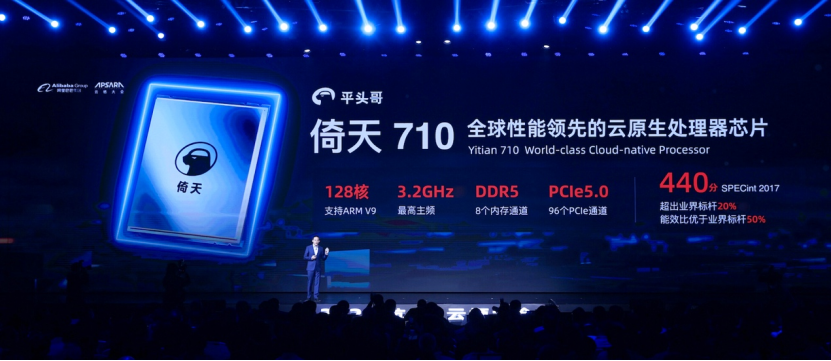 CPU design is one of the most difficult with enormous complexity. Only a handful of companies are doing this.
The Yitian 710 achieved a score of 440 in SPECint2017, a set of benchmarks designed to test the CPU performance, which T-Head claims surpass that of the current state-of-the-art Arm server processor by 20% in performance, 50% in energy efficiency.
The current most advanced server chips are 7nm. The 5nm process has exceptionally high requirements for energy density and the layout of the internal structure.
Yitian 710 has ARMv9 architecture, DDR5 memory channels, and PCIe5.0 lanes. According to one industry observer, it is one of the industry's most advanced architectures and standards. T-Head has customized its features with many self-developed technologies.
Reportedly, Alibaba Cloud will deploy Yitian 710 in its data center for the Double 11 Online Shopping Festival on November 11, when its online computing platform is under extreme use.
The T-Head's score team members have more than ten years of experience in CPU and IP design, long engaged in instruction set architecture development.
Alibaba Cloud is among the world's top three cloud platforms. T-Head has gained a deep understanding of the data center business from it, facilitating its design efforts. Self-developed chips, in turn, also help Alibaba Cloud reduce its overall computing cost.
Alibaba Cloud is fully compatible with mainstream chip architectures such as x86, ARM, and RISC-V. It runs its Feitian operating system. It has become the only cloud computing platform in China that has self-developed full-stack technologies from processor and cloud operating systems to storage, network, and database systems.
Apart from its success, Zhang Jianfeng said Alibaba would continue to cooperate closely with Intel, Nvidia, and AMD to provide customers with more choices.
At the October 19 conference, T-Head also announced its open-source RISC-V-based Xuantie(玄铁) series processors and related tools and system software. Another milestone for-Head in the RISC-V ecosystem after its release of Xuantie 910 and other processors.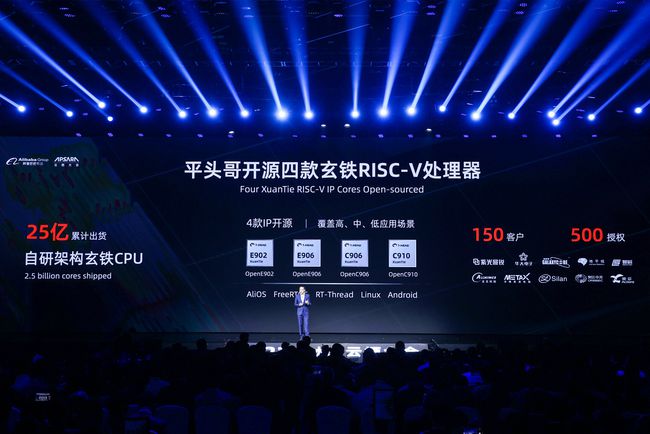 It is said to be one of the first such commercial processors globally, further pushing RISC-V architecture's maturity and integrating software with hardware development.
Thanks to its flexibility, simplicity, and being of open source, the RISC-V architecture has become an increasingly popular choice in IC design. But compared with the traditional CPU architecture, the supporting software, hardware, and tools of the RISC-V ecosystem are still relatively scarce, limiting RISC-V developers.
T-Head's open-sourced Xuantie RISC-V processor and its full-stack software and tools based on Xuantie's multi-operating system will help more developers for their commercial success and enrich the RISC-V-based AIoT ecosystem, T-Head's press releases said.