Editing by Xin Lanhua
JW Insights has rescheduled the 1st Automotive Semiconductor Ecosytem Summit in Shanghai to late December, due to new cases of COVID-19 discovered.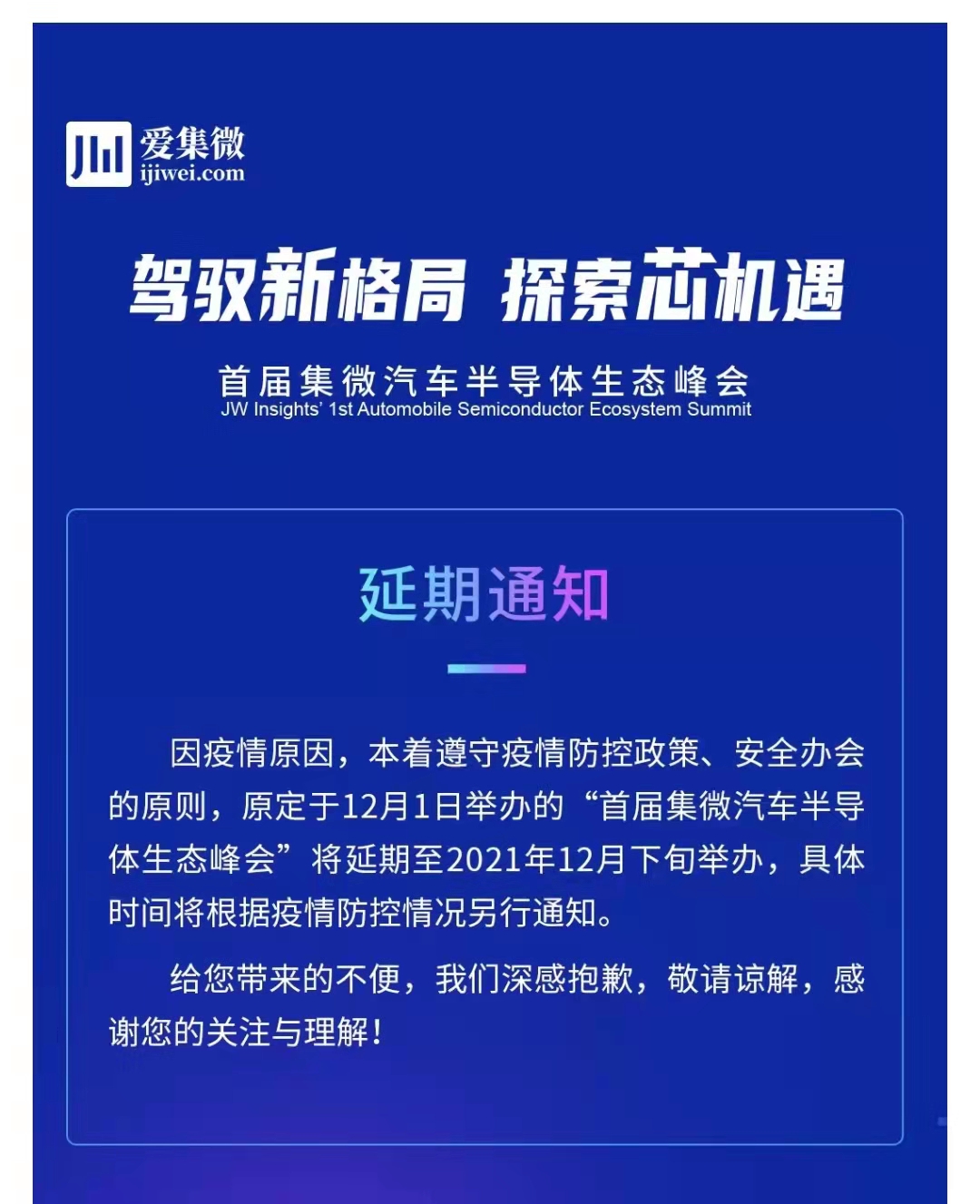 JW Insights' 1st st Automotive Semiconductor Ecosystem Summit is being launched amid centenary technological transmission of the auto industry and a global chip shortage.

JW Insights is the leading consulting and information service on semiconductor investment in China. The summit is sponsored by China Semiconductor Investment Alliance (CSIA), of which JW Insights is the organizing member.
The summit has received support from Shanghai municipal and Pudong District government departments. Zhangjiang Hi-Tech Park - the most established technology area in Pudong District – is the co-organizer of the summit.
It will include a roundtable forum on accelerating auto IC's local industry chain buildup, a policy briefing session, and an automotive supply chain forum.
Industry experts and officials from China's Ministry of Industry and Information Technology will be invited to address the summit on hot issues in the industry, especially concerning the bottlenecks from geopolitical changes and global IC shortages.
An important attraction of the summit will be the Global Analysts' Forum, with speakers from many influential organizations. They include Jimmy Goodrich, Vice Chairman of the U.S. Semiconductor Industry Association (SIA), Jan Vardaman, President and Founder of TechSearch, and Shi Shuai, a Roland Berger partner. Other analysts present include Zheng Wenlong, Deputy General Manager of PwC Science and Technology Industry Research Center, Victor Veliadis, Executive Director and Chief Technology Officer at PowerAmerica, Professor in Electrical Engineering at North Carolina State University (NCSU), and Daryl Lim, Professor of Law & Director, Center for Intellectual Property, Information and Privacy Law.
In the Policy Briefing session, officials and executives from Pudong District government and Zhangjiang High-Tech Park will be invited to present their latest policies and regulations for facilitating businesses in Pudong and the automotive industry.
There will be a ceremony to launch JW Insights' Compilation of China's Policies for Auto Electronics (2021), compiled by JW Insights' Policy Consulting Division. The document compilation will help gain a deeper understanding of the strategic plans and policies that government provides.