Editing by Xin Lanhua
Analog chip design company Amicro Semiconductor won "The Best Technology Breakthrough of the Year Award" from China Semiconductor Investment Alliance (CSIA) and JW Insights for its dedicated mobile robot chip on December 18 in Beijing.
Amicro Semiconductor (一微半导体) is based in Zhuhai, southern China's Guangdong Province and has developed innovative AD/DA Mixed-Signal chip and SoC design with applications in mobile robots. It has developed a strong robot algorithm and development platform with large-scale volume production experience.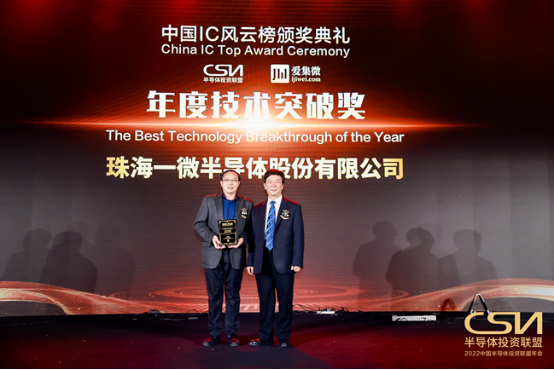 The company was founded in 2014. It specializes in robot motion control and simultaneous localization and mapping (SLAM) specific SoC chips. It can provide chips, algorithms, and solutions on inertial navigation (ESLAM), laser navigation (Lidar SLAM), and visual navigation (VSLAM).
Amicro's industry-leading core chips for robot environment modeling and positioning navigation (SLAM) achieved tens of millions of units/sets of large-scale commercialized applications in household and commercial cleaning fields, mainly used in personal and household robots. Its customers include well-known domestic and foreign manufacturers such as Xiaomi, Haier, Midea, KARCHER, SEB, and Anker.
The company attaches great importance to technology research and development and the accumulation of intellectual property rights. It has applied for more than 1,200 intellectual property rights and patent applications. It ranks the top among cleaning robot technology chips designers.
China Semiconductor Investment Alliance (CSIA) and JW Insights – China's leading information and consulting service on semiconductor and ICT industries - held the CSIA annual meeting and the China IC Industry Top Award ceremony on December 18 in Beijing. The awards are in 15 categories, presented to 173 winners.