Editing by Kate Yuan
The Peking University alumni representatives – mostly semiconductor investors and entrepreneurs - gathered at the Jiwei Semiconductor Summit 2021 (JWSS) last month, sharing their insights and experience in the industry that received unprecedented attention due to U.S.-China trade conflicts and IC shortages.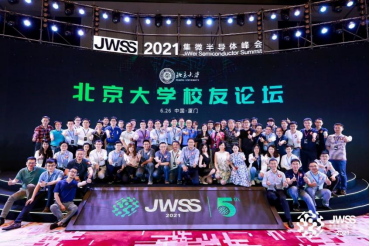 Peking University, founded in 1898, is one of China's best-known universities. It has a glorious history in the country's microelectronics industry development as one of the earliest birthplaces of large-scale IC. It owns three national leading laboratories of international standards.
Among Peking University's alumni are some of the most distinguished contributors to China's semiconductor industry. The best representatives would be Wang Yangyuan, Academician of Chinese Academy of Sciences (CAS) and co-founder of SMIC (中芯国际) as well as Huang Kun, a CAS Academician, and IEEE Fellow.
The alumni gathering host was Teng Ling, Founding Partner of Shinefore Venture Capital (先风创投) and proposed deputy secretary-general of Peking University Alumni Semiconductor Association. Other attendants included Huami Microelectronics (华米微电子) CEO Liu Jinxiang, and ABAX Sensing(飞芯电子) founder Lei Shuyu, Nurlink Technology (诺领科技) founder Wang Chengzhou, Xinyi Information Technology (芯翼信息科技)founder Xiao Jianhong, Dynax Semiconductor (苏州能讯) founding partner and vice president of technology Pei Yi, Peking University Institute of Microelectronics professor & Micronano Core (微纳核芯) chief scientist Ye Le, and Adaps Photonics (灵明光子) CEO Zang Kai.
She Libin, managing director of CVCapital (投中资本), chaired a panel discussion on investment direction with Partner of Hillhouse Capital (高瓴资本) Lu Dongfeng, Suzhou Oriza Holdings (元禾璞华) Partner Liu Yue,CTC Capital (和利资本) Partner Zhang Biao, and Northern Light Venture Capital (北极光创投) Partner Yang Lei.
Peking University has the Institute of Microelectronics with 82 faculty members. In the past ten years, it has undertaken more than 200 national-level scientific research projects and made tremendous research achievements with international influence in the field of microelectronics and IC.
There is also the School of Software and Microelectronics in the university with well-known scholars and senior IT executives at home and abroad in the facility. The dean of the school is Xu Hongxing, a CAS Academician.