Editing by Greg Gao
Nearly 60 Wuhan University alumni who are active in China's semiconductor industry gathered at the JiWei Semiconductor Summit 2021 (JWSS) in late June and exchanged ideas on how to move forward faster in this industry boom year.
Wuhan University in central China's Wuhan City has its well-known School of Microelectronics and many of its alumni are engaged in semiconductor-related industries worldwide, according to Ruan Hao, secretary-general of the Wuhan University Alumni Semiconductor Committee.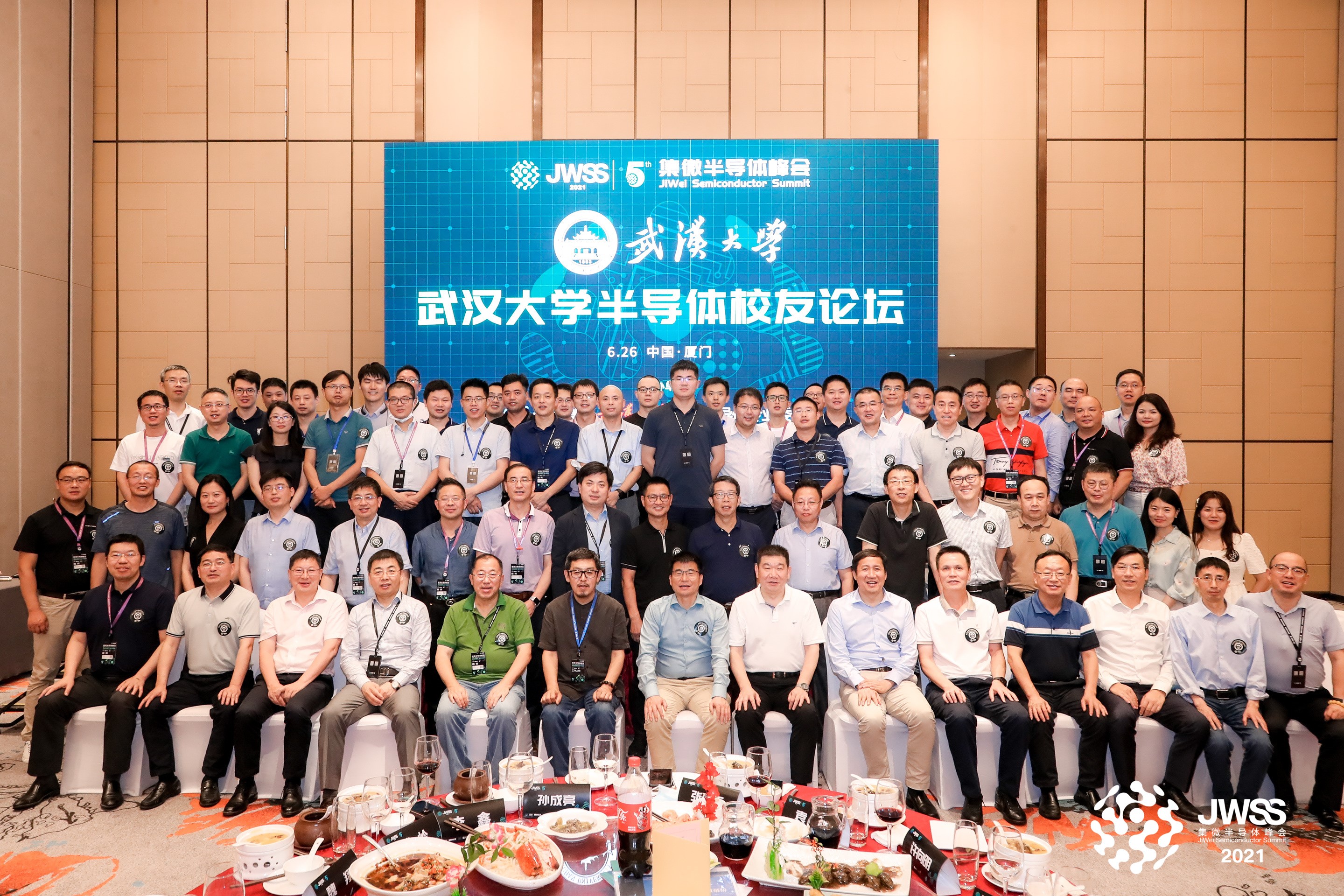 Heading the university's alumni gathering were Xu Hongxing, Dean of the School of Microelectronics of Wuhan University, Academician of the Chinese Academy of Sciences, and Liu Sheng, Vice Dean of the School of Microelectronics of Wuhan University.
Other attendants included Hou Jiangzhou, general manager of Hunan Hi-Tech Investment Group(湖南高新创投); Ni Jun, president of Beijing Epcmicro Technology(北京鸿智电通科技公司); Jiang Jinguang, professor of Wuhan University Satellite Navigation Center; Bu Shengfu, chairman of Shenzhen Xibo Venture Capital (深圳西博创投); Wei Xiang, chairman of Chuangjiang Holdings(创疆控股); Yuan Xiong, chairman of Archimedes Semiconductor(阿基米德半导体); Li Xin, chairman of Zhuhai Ismartware Technology Co., Ltd. (珠海智融科技); Zhang Jianchen, CEO of Giantec Semiconductor Inc.(聚辰股份).
Wuhan University is one of the first universities in China to establish microelectronics disciplines. The predecessor of its microelectronics discipline was Wuhan University semiconductor major, which opened in 1956. In the 1980s, the university built a complete transistor silicon production line and a semiconductor factory, which produced silicon photodetectors with quite a large domestic market share at that time.
Over the years, Wuhan University has cultivated many outstanding semiconductor talents in academia and industry. In academia, the university turned out more than ten Academicians of the Chinese Academy of Sciences and Distinguished Young Scholars including Academician Liang Junwu.
There are also quite a number of listed IC company founders and top executives from the university.
In response to China's acute need to make breakthroughs in semiconductors, Wuhan University established in July 2020 the School of Microelectronics by using the resources from the School of Physics, the School of Telecommunications, and the Institute of Technological Sciences. Currently, the school has one Academician of the Chinese Academy of Sciences, six scholars of "The Yangtze River Scholar Program," and more than 60 other outstanding talents in the field of microelectronics.
So far the School of Microelectronics has also made progress with a series of IC products for 5G electric filters, BeiDou navigation, LED and SiC, and GaN of third-generation semiconductor materials.