By Li Panpan
Shanghai will scrap the practice whitelist of companies as of June 1 and facilitate resuming work and production in the city after two months of lockdown from the Omicron pandemic. In a briefing on May 29, the municipal government announced plans with 50 measures in eight categories to support manufacturers in the automobile, IC, and other industries to resume work and stabilize its economy.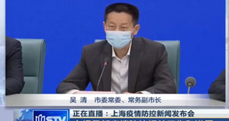 "It's essential now to protect enterprises and ensure employment," said Wu Qing, Vice Mayor of Shanghai, at the briefing.
According to the plan, Shanghai will offer enterprises tax rebates, housing rent reduction and exemption, and other subsidies. Companies in Shanghai will no longer need to be on a "whitelist" to resume production starting from June 1, said Wu.
In mid-April, Shanghai introduced the practice of a whitelist of selected companies to resume operations and production amid a tight citywide lockdown.
The plan also calls for strengthening communication with executives of foreign-funded enterprises to listen to their opinions and find ways for consultation and help solve their practical problems.
The Shanghai International Arbitration Center and other relevant dispute resolution institutions will provide legal advice and assistance to foreign trade enterprises to safeguard their rights and reduce or exempt, refund or postpone the payment of eligible arbitration fees. It will also provide convenience for foreign employees and their families handling invitation letters and entry-exit procedures in China.
"Although the pandemic had an enormous impact on Shanghai's economy and society, the long-term positive trend of Shanghai's economy has not changed," said Wu.