Editing by Kate Yuan /WM Zhang
Zhu Yiming, a leading Chinese semiconductor executive and one of the pioneers in China's memory technology, called for global collaborations for the semiconductor industry development at the GSA Memory+ Conference in mid-July against the backdrop of the Sino-US semiconductor industry supply chain changes from geopolitical conflicts. "We cannot afford the consequences of a fragmented industry. We must stay united and work together for a better future," he said in a video speech.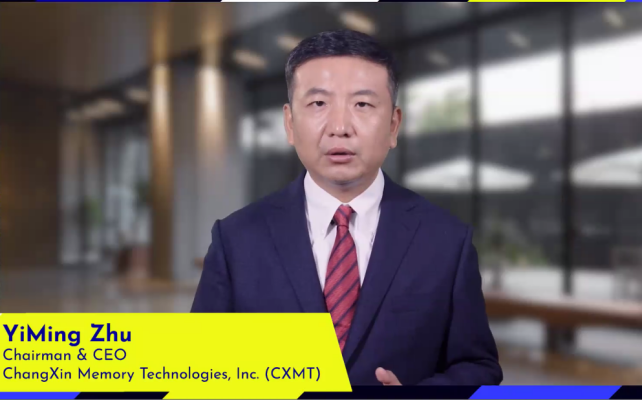 Zhu made his rare presentation in English as Chairman and CEO of ChangXin Memory Technologies (CXMT长鑫存储技术) based in Hefei, Anhui Province in eastern China and specializing in DRAM memory. Born in 1972, Zhu studied at China's Tsinghua University and had further education in the State University of New York at Stony Brook in the United States between 1998 and 2000. He also worked for four years in the U.S. companies - iPolicy Networks and Monolithic System - before returning to Beijing to found in 2005 GigaDevice – a successful flash memory and MCU company. In 2018 he was appointed ChangXin's chairman.
Zhu represents a growing pool of new Chinese semiconductor company founders and senior executives with global vision and local success. They studied in the U.S. and other Western countries and worked there, then returned to China to launch their own companies during the last two decades or so.
"Global collaborations have been one of the most important factors to be a successful semiconductor industry. There is not a single nation in the world that can run the entire supply chain alone," stressed Zhu Yiming in his speech entitled"Global Collaboration Enables Human Aspirations."
"Over the last 20 years, economic activities in urban cities are principal drivers of global prosperity. While earth resources are fast depleting to feed our growing populations, difficulty in meeting the basic needs of the million livings in urban cities has become an ever-increasing problem."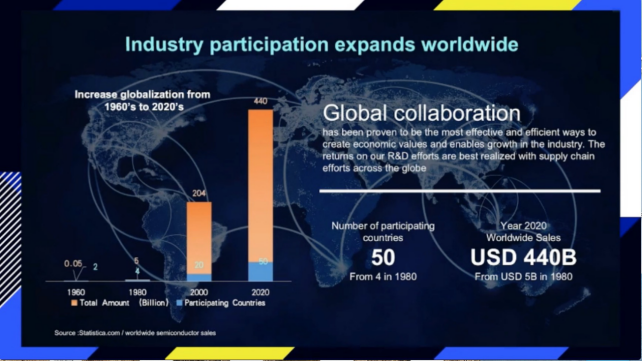 According to the world bank estimates, by 2055, there will be over 10 billion people, of which more than two-thirds live in cities around the world. It is, therefore, more critical than ever to enable sustainable urbanization and development level.
He pointed out that problems related to all the populations, excessive consumption, power, pollution, and resource depletion have posed environmental and health challenges in major cities.
"At the heart of all the possible solutions in all the coming urban issues is a semiconductor - the most powerful invention in human history in transforming the human's living." "The smart city today overcomes some of the problems by optimal development of the digital architecture to enhance the economic, social, cultural, and urban environment. These important improvements are digitally connected using advanced semiconductor technologies that enable the growth of a sustainable city. "
"Over the decades, global flows of trade and investment have accelerated dramatically, creating enormous economic value. What's more, the United States corporations have benefited from access to a wide variety and lower prices of these parts, technologies, services, and innovations," he added. "This means the United States corporations have a significant opportunity to promote their growth and productivity through wide participation in global cooperation."
He emphasized."Global cooperation has been one of the most powerful forces for the growing economy. The world benefited from both inflows and outflows of goods, services, finance, and many more. Any attempt to decouple those relations leads to undesirable consequences that are more than we can afford."
"Over the past decade, China has been one of the most pivotal drivers of globalization. The rise of the Chinese middle class creates massive market opportunities. China's transformation leads to an upgrade of its large workforce scale—globalize its institution of higher education, directing its research capability toward sheer global challenges, bridging western technologies and nations with developing countries," he said.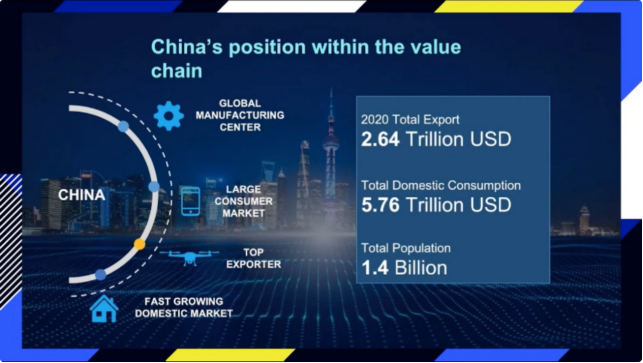 He also gave the example of the China-made smartphones in global collaboration: the cost for a mobile phone has been lowered to under RMB1,000 ($154) with a global supply chain and global market support, making smartphones more popular. The scale of the smartphone market increased from 2.5 billion units in 2016 to 3.8 billion units in 2021. By 2023, this market could support a five billion population. Without a global collaboration of the entire supply chain, it would be impossible to realize such a phenomenal connection.
He also referred to the review report by the White House on the semiconductor supply chain, indicating a changing complexity. A typical semiconductor manufacturing procedure would involve multiple countries, even going around 70 times between some countries.
But now, due to the Western geopolitics and COVID-19 pandemic, the global semiconductor industry is under damaging effect. Increasing tensions between the U.S. and China have also raised the stake in global trade and technology. In 2020, the United States moved to cut off U.S. chip supply to Huawei. "If U.S.-China tensions persist, this may delay the digital transformation of the industry and widen the digital divide," he said.
"Our industry is on the way to success with the rapid adoption of urbanization, deploying AI cloud and data that improve productivity across all industries and consequently empower the global economic recovery from the Covid-19."
"As a global industry, we must stay united and work together for the better humankind return," he said, "our intellectual investments can be best maximized by us working together."